Baby Beach Tent: Best Picks & A Complete Buying Guide
A summer day on the beach with your kid(s) is quite different from that with your beloved spouse. If you are not serious about the safety of you and your partner, you need to have some when you have the kid(s) with you on the beach. If you are a little serious, you need to be more serious because it is your kid(s), the heavenly blessing, you are hanging out with. Of course, you do not want the baby to get sunburned or dirty by sand or affected by the extremities of summer days.
Will sunscreen help? Yes, they will and they won't. Since you want 100% and no less when it comes to your baby, a baby beach tent can be brought under consideration. It will allow your little kiddo to enjoy a shady place to play, relax and sleep. Thinking why you need something like that for just a few occasions? Summer days are not going to cease in a day or two. You can have the tent in your backyard as long as needed. Throw the tent in your trunk when not in use.
So, you now understand why it is not a waste after all.
Baby beach tents – anything special?
There is a reason why some beach tents are called baby tents. A miniature form of the regular tent, a baby beach tent comes with features exclusively included to cater to the desires and needs of a kid. To talk about the design of a beach baby tent, we can go to the extent of believing that tent manufacturers put all their efforts and creative minds together to design a baby tent that makes a child feel like being a king or queen.
A beach tent – loved by children or not?
Most children being playful may not like the idea of being confined in a little space that apparently deprives them of the openness of a beach. But, what if your child feels that he/she has at least some space of his/her own? Believe it or not, children have a happy feeling about having their personal space.
Babies do not know why they need a tent of their own. Most babies cannot even pronounce the name 'beach baby tent'. But, if your toddler can be given to understand that he/she has a great value which is why he/she gets a place of his/her own even on a summer beach vacation, you will soon start noticing that your baby treasures the tent more happily than you.
Let's move onto the practicality of having a baby tent.
Such a tent will prevent your baby with skin producing less melanin from having sunburns and irritating skin conditions by saving them from sun exposure.
The weather around the beach may be refreshing enough to enthrall your body and soul, but the same may not apply for your child who may feel irritation or become vulnerable to dryness due to crazy wind. A baby tent is the most viable way to get your child rid of this problem.
A beach has sandy grounds, and you will not allow your kid to have sand all over his/her body for an extended period. But, how can you protect him/her from that without allowing for a tidy and comfortable space.
Sometimes, a beach becomes the venue of an unwelcome insect fest. Without a quality baby tent, you cannot ensure proper protection of your child from stinging wasps and bees, annoying flies and mosquitoes, and venomous spiders.
Your baby is not as energetic as you. It will need to take naps a few times throughout the day. Where else can you happily put your drowsy baby if it is not inside a baby tent?
Baby beach tents being adequately specious and lined may let the entire family pile in and sit on the ground. You will have no direct contact with dirt and sand.
Perhaps, you have got more reasons than you would need to buy a beach tent for your baby.
Before you really buy a baby beach tent……
A tent is not a large product or does not involve a very complicated construction. But, you would want to consider these factors before throwing your money at one.
Weight:
Baby tents should not weigh much. If you cannot lift one quite comfortably with your single-handed effort, you should move onto the ones that weigh so light.
Size:
It is completely your personal preference whether to choose a beach tent exclusively designed for kid(s) or to get one that can house your entire family.
Compactness:
Choose the ones with roll up features and a carrying handle. Since you want something that you can comfortably stow and carry, tents which snap shut can be suitable.
Protective features:
Beach tents with all-round protection are convenient because the sun will not shine the same way from the same direction throughout the day.
Sturdiness:
A beach tent that can withstand strong breeze or ghastly ocean wind is worth your money. Having stakes, sand pockets and pegs, sturdy tents will not easily run off as the wind starts blowing crazily.
Ease of folding and assembly
What if your spouse/partner is busy doing something on the beach and it is time to set up the tent for starting the vacation or fold it tent for departure? Can you work with the tent that comes with a complicated and toilsome set-up or folding requirements? So, choose the ones that can be assembled or folded up with the minimum effort in a very little time.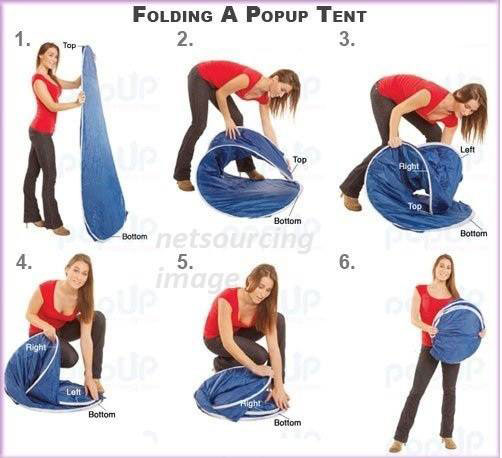 Floor:
A tent that comes with a lined floor is always ideal for beach vacationers. These tents will save your efforts to bring the blankets or towels to line the tent's bottom.
UV Protection:
It is wiser to have a beach tent that boasts certified UV protection rather than simple sunshade because you need to shield your baby from the sun's fury.
Breathability:
Children become prone to overheat or suffocation if the ventilation system performs poorly. So, you must buy one that comes equipped with sophisticated ventilation technology. You may also get the ones with mesh windows which can be zippered, so some sides of the tent remain open.
Have you already had enough of the 'buying guide'?
Well, here some excellent baby beach tents, not essentially top of the line for your consideration.
Pacific Play Tents Lil Nursery Portable Tent
The colorful tent can easily make your baby have an instant love for it, and you will not feel out of luck.
Features:
Ideal for: Ages from 6 months to 1 year
Dimensions: 36″ X 36″ X 36″ high
Two mesh side-walls
A mesh roll-up door
UV treated fabric
Durable 190T polyester taffeta fabric
A Waterproof polyethylene floor
Included in the box: Tent, two tent poles, a carry bag, and an instruction sheet
Adult assembly
Benefits:
Conveniently portable during travel
Clear visibility
Adequate ventilation
Great protection of a baby's delicate skin from the sun
Great features at an affordable price
Downsides:
Flimsy build
The poles being not flexible enough to click together properly
Pacific Play Tents Kids Seaside Beach Cabana
A combination of great structure, fun colors and durability, this beach tent has attracted numerous children who have just started the 'liking and disliking' things.
Features:
Ideal for: Ages 2 years and up
Dimensions: 60" x 35" x 40" high
Weight: 6 Pounds
Flame-retardant 70 denier polyester walls
Tent assembly with PE coated fiberglass shock-corded poles
Two mesh side full windows
Water-resistant polyethylene floor
Included in the box: tent, carry bag, and shock-corded poles
Adult assembly required
Benefits:
Suitable for both outdoor and indoor activities
Solid back offering relaxing naps or rest
Proper ventilation and easy viewing
Compact design and lightweight for comfortable transportation
Easy to clean up
Downsides:
Light colored sides allowing the sun to go through them
Reported poor protection while the sun is at its high
Schylling Infant UV Play Shade
In spite of one or two drawbacks, this tent is a great choice if your concentration remains on UV protection, durability and ultimate protection of your baby.
Features:
Ideal for: All Ages from 1 month up to 10 years
Dimensions: 2 x 15.8 x 15.8 inches
50+ Ultra Violet Protection
UPF rating available at 50+ UPF
Patented structure
Suitable for both indoor and outdoor uses
Pegs, Sand Pockets
A "Go Anywhere Bag"
Weight: 2.9 Pounds
No assembly required
Benefits:
Instant pop up and down
UV protection roof for ultimate protection from sun exposure
Sturdy construction
Extremely lightweight
Protection from rain water
Downsides:
Not much suitable for breastfeeding mothers
Reported faulty ventilation system
iCorer Automatic Pop Up Instant Portable Cabana Beach Tent
For a lightweight and versatile beach tent, you need not go any further than this one that offers excellent value to your money.
Features:
Dimensions: 65 x 59 x 43.5 inches (L x W x H)
Self expansion and 'folding up' features
Durable 190T nylon with CPAI-84 flame retardant material
Strong steel beam frame
50+ UPF Rating
Large mesh window
6 mental ground stakes
Sand bag pockets
Carrying bag included
Weight: 2.2 pounds
No assembly required
Benefits:
An upscale appearance
Great features for the money
Suitable for beach vacations, park or warm-weather events
Full coverage and protection from harmful weather factors
Effortless use and preservation
Downsides:
Flimsy stakes
Occasional difficulties with the 'folding up' actions
Click Here to Buy This Product
Kilofly Original Instant Pop Up Portable Travel Baby Beach Tent
This beach tent is quite easy to manage and carry, especially if you travel a lot. Affordable and innovative, the tent requires not much of your efforts to clean up.
Features:
Dimensions: (Opened) 43 x 27 x 20 inch & (Folded) 14 inches
Built with certified non-toxic and lead free material
Self-expanding screen tent
Safe for baby's health
2 Tent Pegs & 2 Anchor Straps
2 Loop Fasteners
2-Way Zipper
Weight: 300 grams
No assembly required
Benefits:
Ultra lightweight yet durable
Offering a safe environment inside free of insects and bugs
Quick access
Great ventilation
Effortless set-up and pack-up
Downsides:
Inadequate protection from the sun
Not capable enough to withstand strong wind
Insufficient stability on the ground
A few words about your baby beach tent and safety
You have managed to buy one of the most effective and well-performing tent for your sweet child, now what? Follow these rules of safety as they will let you enjoy the utilities of the tent.
Do not add any extra comforter or pillow except the sleeping pad that may possibly come with the tent.
Make sure you are careful while removing the tent's safety strap which allows the tent to unfold.
Do not leave your beloved little one fully zippered inside the tent if you have to go somewhere else.
Do not allow your child to play with the tent or chew it severely.
It is recommended you have sunscreen applied to your baby's body, no matter he/she is inside or outside the beach tent.
Final Words:
By now, you are likely to have discovered the original objectives of using a baby beach tent. Regardless of the many designs and manufacturers of beach tents, you should seriously care about the factors like UV resistance, protection from dirt, insects and sand and durability. All these factors constitute the whole idea of safety for your baby, which you care most. A beach tent for your baby will be the best thing for you if it comes handy in terms of these factors.