The Ultimate Guide To Find The Best Glass Baby Bottles
Mothers love to breastfeed their babies, and it is no wonder why feeding a baby through its mother's breasts is the best way. But, sooner or later, mothers need to find an alternative to breastfeeding. Here comes the practical utility of glass baby bottles which provide the second best way to feed a little baby.
For there are numerous options, mothers have a lot to consider while choosing the best glass baby bottles. Ask any mother, and you will get familiar with the following concerns about the bottles.
What's wrong with the plastic bottles, or why should I even think about glass bottles?
Will the glass bottle leak or last long?
Will the bottle be easy to use and clean?
Will my baby gladly accept it?
How much does a glass bottle cost?
Which things do I need to consider before buying one?
Well, you do not have to torment yourself with the idea of being a glass baby bottle expert. This detailed guide will save you your valuable time and of course the worries about getting the best glass baby bottles within budget.
Let's start with the obvious benefits……
Containing no plastics or similar compounds like BPA or any sort of plasticizers, glass bottles are completely safe.
The major manufacturing component for a glass bottle is silica sand which has not yet been associated with any harms or negative impacts on a baby's health.
Being inert, glass does not react with juices, milk, or any drinkable liquids.
Glass does not show any instance of leeching chemicals.
Glass baby bottles in modern times come with more resistance to scratches or impacts.
You can heat, sterilize or microwave a glass baby bottle without giving yourself a bit of health concerns.
You need not worry about a glass bottle's color as it will not change over a period of time.
Cleaning or maintenance of glass bottles is very convenient. These bottles can air dry faster than their plastic counterparts.
Unless there is any leak or crack or similar deterioration visible on the bottles, you can continue to use them for months or years without replacements.
Let's find a concluding line between plastic and glass baby bottles……
If you are worried about the weight of a bottle, plastic is a clear winner. Also, plastic bottles are not breakable. As it is all about your little one and you are very serious about the hygiene matters, glass bottles are better. You can clean them easily while plastic bottles cannot look good for a prolonged period of time. With a glass bottle, you need to be a little more careful with its use, especially with the concern that you or your baby should not drop it by mistake.
Durability is another good point of consideration. Plastic bottles are unbreakable, but they cannot withstand scratches or much heat. Glass bottles may last longer being resistant to scratches and moderate heat. Just a simple wash can make the bottle look as good as new.
Plastic baby bottles start smelling foul after a few days of uses. Also, fat from breast milk often sticks to the bottle's inner wall. Such occurrences may lead to the deterioration of milk's taste and odor. Glass bottles are almost free of these issues.
With glass bottles, you should not worry about BPA or any other so-called harmful compounds. There is not much worry about the plastic bottles either because most manufacturers these days are claiming to have brought BPA free plastic bottles. The Food & Drug Administration (FDA) has been found to be active enough to compel manufacturers to think about using better things than BPA. However, parents do still have the right to pick the better option and stay away from the BPA concerns.
So, except for the fear of dropping or weight, glass bottles are better in many ways. Nonetheless, you can stay careful and eliminate the concerns.
Some parents have already adopted a safety measure by using silicon outer sleeves on their glass bottles. This may work as a protective feature. With this added item, you can stay away from worries about dropping the bottle and having it broken.
Now comes the hardest part: The Buying Guide
Parts of a glass baby bottle:
Let's get familiar with the different parts of a glass baby bottle. In general, the bottle comes in four pieces.
Bottle: It holds or contains the milk or formula.
Nipple: An artificial teat that mimics the mother's nipples. A baby sucks milk or juice or anything in the bottle through this piece.
Collar: It works as a lid being in the shape of a ring. The nipple of the bottle sticks through this part. It screws onto the glass bottle to secure the nipple properly. This piece helps prevent the baby from choking or swallowing on the nipple.
Outer Cover: This is not a must-have feature. The majority of glass bottles come with an outer cover that prevents waste, dirt, or grime from coming into contact with the bottle or its nipple while not in use.
Types of glass baby bottles
In order to suit the varying preferences of parents, manufacturers have been in the business of bringing a variety of baby bottles which may outperform the old one-type glass bottles in many respects.
Standard glass bottle:
These bottles are extremely popular because of their cheap prices, simple design, ease of use and maintenance and widespread availability. This type of bottles also fit nicely with different accessories like sterilizers or warmers. However, these bottles may come with significant compromises on quality and aesthetics. Also, your baby may swallow air while feeding. So, try to keep an eye on your baby while feeding him/her through a standard glass bottle.
Angle-Neck glass bottles:
Angled bottles feature a very visible b
end in their necks which is meant to make sure that the nipple stays filled with formula or milk. The bend also makes sure that air bubbles do not get trapped in the nipple. These bottles are popular because of their ease of use and special features to prevent ear infections. According to some pediatricians, use of angled glass bottles to feed a baby inspires a semi-upright position which is good for parents holding their babies.
These bottles have their limitations too. Not many stores sell these bottles, and you may need to look farther than your local stores. These bottles are more expensive than standard ones, and you will also find them difficult to clean. Also, some parents have to struggle while filling them. However, with a few days of experience using them will ease out the issues.
Wide neck glass bottles:
Use a wide neck glass bottle to feed your baby and see that he/she can barely refuse. The look and feel of these bottles has been crafted to mimic breastfeeding and prevent babies from getting confused about nipples. In addition, you will find these bottles quite easy to clean because of their having wider opening and the nipple's attachment to the bottle. However, there are two drawbacks involved. With these bottles, you cannot use just about any standard nipple. The cost of a wide neck bottle is higher than that of a standard bottle. So, you need to be more cautious about its long-term use.
Vented glass bottles:
Popularly known as Natural Flow Bottles, these products perform special actions. When a baby starts sucking on the bottle's nipple, a particular type of vacuum gets formed. This vacuum eventually causes air bubbles to get mixed through the milk/formula or trapped inside the nipple. So, the baby is likely to swallow the air and end up having colic gas. The job of the vent is to ensure that the air does not get trapped in the nipple and force it back to the bottle's base. You can vent a bottle by using a straw or a valve in the bottle's base. There are as many as four venting systems available. Cleaning or buying vented bottles can be cumbersome to many parents.
Non-Vented: This is the worst type as it allows the air to enter the bottle containing no venting system.
Top-Vented: Having small holes in the nipple to allow the air to travel to the bottle, this can be a fair type of glass bottle because the baby still has the likelihood of ingesting a little amount of the air.
Straw Venting: Better than a top-vented bottle, this type involves slits in the nipple to facilitate air to get drawn and pass through the milk with the use of a straw. There is almost no chance that the air can mix the baby's formula or milk.
Bottom Venting: This is the best venting system because the air gets drawn into the glass bottle via a valve placed at the bottle's base. Thus, the milk remains free of air and no negative pressure can exist.
Shapes of glass bottles:
There are two popular designs for baby glass bottles, such as, regular and wide. Many parents prefer wide bottles because of the design of these bottles mimics the shape of a mother's breast so that the baby can avoid nipple confusion.
Size of glass bottles:
You can measure the size of a bottle by knowing how much milk or formula the bottle holds. Glass bottles can hold as much as 12 ounces. The smallest size can hold 4 ounces of milk or formula. There are two different sizes in the market. The small size can hold 4-5 ounces and the large size can hold 8-10 ounces of milk.
There is another consideration for you to make. How much mil or formula you need to feed your baby depends on how old your baby is. For newborn babies, you should allow 1.5-3 ounces every meal. For a baby that is 2 months old, 4-5 ounces every meal is ideal. For those who are 4 months old, the right amount should be 4-6 ounces every meal. Babies who are over 4 months old should be given 6-8 ounces every meal.
There is no fixed rule or guideline to follow in this regard. Many parents would feel comfortable altering the amount in ounces for every meal.
Nipple Shape:
There are three different types of shapes available for the nipple of the bottle. They include bell shaped, orthodontic, and traditional nipples.
Nipple Material:
Latex and silicone are the two widely used materials for nipples. Due to having reports about allergic reactions in some babies, latex can be avoidable. Thus, silicone is preferable to latex.
Protection:
In spite of being durable, modern glass bottles can still be vulnerable to shattering. However, some manufacturers add a medical grade silicone coating to allow the glass pieces to be held together. The silicone does not mix with the milk. A good alternative to silicone coating can be a protective Silicone sleeve which is getting popular day by day.
Anti-Colic Features:
Before buying a glass baby bottle, you should make sure that it includes anti-colic features which can prevent swallowing of air by the baby and oxidization of milk when being exposed to direct air. These features can help prevent the risk of burping or colic due to ingestion of air.
Fitment with the breast pump:
Although many parents often forget to consider this factor, this is important because it is a great joy for many mothers to be able to pump their breast milk directly into the baby glass bottle. Except the wide neck bottles, the majority of glass bottles will fit well with your breast pump. Also, mothers who formula feed their babies frequently will not find this feature helpful.
5 Best Glass Baby Bottles At A Glance
This section is designed to help you with the most cumbersome part of the buying process. Yes, the best choices to make with your budget.
JOOVY Boob Glass Bottle 3-pack, 8oz
This bottle is a classic example of the fact that some products with traditional design cannot be much improved except for the quality of the material and durability. Solid design and high-quality build are the salient features of these bottles.
Features:
3 Glass Bottles with 1 Silicone Sleeve included
Excellent cushion against drops and bumps
CleanFlow Vent System
Dishwasher safe
Available sizes: 5oz & 8oz
Pros:
Resistant to drastic temperature changes
Quick and easy breast and bottle transitions
Nonabsorbent to odor, color and taste
Anti-colic features
Cons:
More expensive than many popular products
Issues with the measurement numbers over time
Philips AVENT Natural Glass Bottle, 8 Ounce (Pack of 3)
AVENT Glass Bottle is widely known as the most trusted companion for mothers who want to adopt a natural way to feed their babies.
Features:
Wide neck opening
Breast-shaped silicone nipple
Advanced anti-colic system with twin-valve
Made of medical-grade borosilicate glass
Compatible with all Philips Natural nipples
BPA-Free
Pros:
Great combination with breastfeeding through promoting natural latch
Ergonomic design to reduce the issues of weight
Elimination of possibility of nipple collapse
Thermal shock and heat resistant
Cons:
Reported poor sealing of lids
Vulnerability to breakability due to drastic or frequent change of temperatures
Lifefactory Glass Baby Bottles and 1 Silicone Teether
For a safe transition from boiling water to freezer and high resistance to thermal shock, these bottles are almost unbeatable. The pharmacy-grade silicone sleeve is another great thing to have at such a price.
Features:
Medical-grade silicone sleeve
Tactile non-slip gripping surface
Polypropylene (PP#5) cap, ring and stopper
FDA Approved (Free of BPA/BPS and phthalate)
Dishwasher safe
Assembled in the U.S.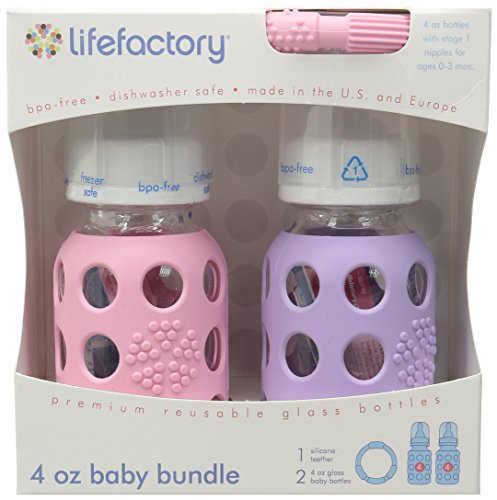 Pros:
Durable
Excellent protection included
Compatibility with major sterilizers and breast pumps
Leak proof features
Cons:
Very expensive
Difficult to clean and see how much of the milk or formula consumed
Evenflo Feeding Classic Glass Twist Bottles, 8 Ounce (Pack of 6)
When your foremost consideration is the price of a glass bottle and then you must look at the features seriously, Evenflo Glass Twist Bottles are second to none among the market leaders.
Features:
Iconic classic shape
BPA free
Tempered glass bottle
Slow flow soft silicone nipple
Micro air vents
Pros:
Superb sanitizing and recycling
Great sustainability
Very affordable
Prevention of nipple collapse
Anti-colic features
Cons:
Difficulty finding a suitable sleeve
Vulnerable to drastic temperature changes
Simba 9 oz Ultra Light Glass Bottles, (Wide Neck, Set of 3)
With adequate arrangement to withstand extreme heat, Simba Glass Bottles are easy to clean and maintain, especially when you have little access to your cleaning tools. Except the absence of silicone sleeves, these bottles are worth your positive consideration.
Features:
Made of Ultra light medical-grade borosilicate glass
Specially designed anti-colic nipple (cross hole design measuring 0~3M)
High heat resistance of up to 1112°F
Size: 9/6 oz
Dishwasher safe and sterilizable
Free of BPA and PVC
Pros:
Prevention of milk stain
Strong resistance to extreme heat
Clearly marked measurement
Anti-colic features
Superlight yet durable
Cons:
Silicon sleeve not included
Likelihood of breakability if not packaged properly
Poor sealing of lids reported
Final Verdict
Well, you have now come down to the most precise phase of your buying process. It does not mean that your options are confined in these five choices, but these five bottles have been found to be immensely popular among parents because of their features, prices, and medical benefits. Just take a few minutes to look at them, and they will be worth your time and patience. Remember that price is the biggest difference maker when it comes to choosing the best glass baby bottles. However, you need to be serious about the protective features, such as, silicone sleeves or coating in order to stay assured of a great purchase.