Top Five Hoverboards For Your Kid With
A Complete Buying Guide
One of the toughest jobs in the world is parenting. As a conscious parent, you always have to take care of your kid(s). You do not want to miss a single chance to make your kid's life more joyful. Now, you might think that what the best ways are out there to help your kid become more sportive and athletic. No doubt, physical movements are essential. Instead of sedentary lifestyle, your kid should immediately go out and exercise physical movements in as many ways possible.
Why you should buy your kids hoverboards?
"Hoverboards help your kid become more sportive"
By all accounts, we know that sports accessories instantly grow some interest in children. If your kid tend to spend most of the afternoon or holidays in front of the TV or computer screen, you should worry. Surfing Internet and lounging around all the day may cause severe health problems to your kid. Be serious and encourage your kid to go out to enjoy the fresh outdoor air. One good thing you can do about it is to buy them hoverboards and elicit their positive responses. Thus, hoverboards may considerably contribute to your kid's physical and mental transformation.
Which hoverboards should you look for your Kid?
Needless to say, hoverboards have become the order of the day. But before you buy a hoverboard for your kid, you should consider a number of issues. The best five hoverboards, along with their pros and cons are right here. Peruse them, compare them, and make your final call.
Segway MiniPRO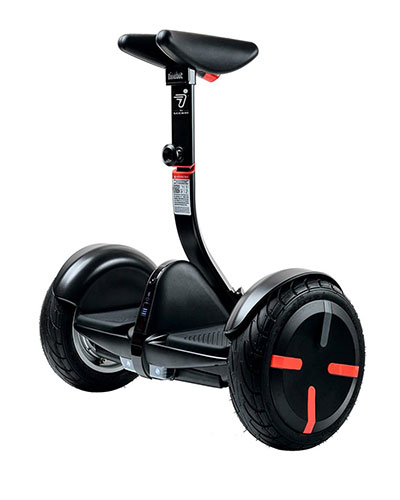 I bet that you will agree on my thought that it is more than a hoverboard and a transporter for kids. The most conspicuous feature of this hoverboard is its adjustable knee pad. The control sensor is set at the knee pad. Just forget about the difficulty caused by the control sensor at foot pad. Once your kid gets used to using it properly; he/she will start to enjoy the control sensor at convinient place. You do not have to bother as your kid gains height, the adjustable knee pad caters to people with different heights. The advantage that the knee pad gives your kid is that it will also take care of your kid's body balance. You can certainly rely on its safety. It is a UL 2272-certified hoverboard. You also do not have to bother about motor quality because the hoverbooard features 800-watt dual motors. Besides the supremacy of the motor, the 10.5-inch pneumatic air-filled tires provide the opportunity for the best experience of minimum skidding and superb traction. No doubt, it will greatly amaze your kid. You can also look at the product's pros and cons. It will help you make your final call.
Razor E100 Electric Scooter
Though you cannot technically call it a hoverboard because of its handlebar, You can still buy your kid this electric scooter as a Christmas present or birthday gift. This one is undoubtedly great for lighter riders. Kids aged between 8 to 10 years can ride this one pretty comfortably. If kids wish, they can ride at 10 mph. By the way, it has weight limit. Anyone including both kids and adults who weigh below 120 lbs can take a ride. Like Segway MiniPRO, it has also an adjustable handlebar. Therefore, you do not have to bother as your child keeps growing each day. The manufacturer company didn't forget to provide the facility of 8-inch pneumatic tire at the front and a 4.9-inch polyurethane tire at back which offer better traction experience. Let's flick thtough the pros and cons.
POWERBOARD by HoverBoard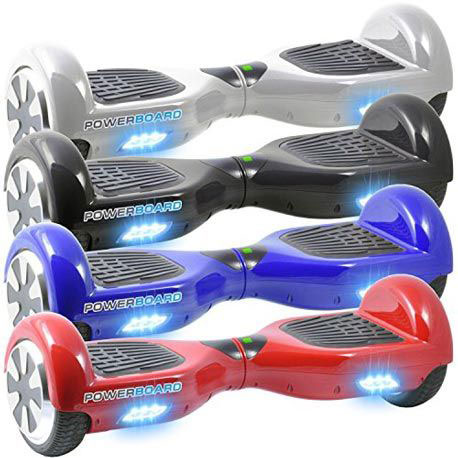 If safety is your prime concern, this hoverboard is good enough to appease your anxiety. To meet your expectation, it has passed all the safety checks set by Underwriter's Laboratory (UL). It has a bult-in safety limiter that protects your kid from any danger. It may speed up to 6.5 miles per hour until the built-in safety limiter is activated safety. Without an iota of doubt, you can rely on its quality. The strongest side of this hoverboard is its battery. Its six-hour battery life will give your kid an amazing experience. He/she should not fret about the duration of the ride. Unlike Razor E100, Powerboard ensures you that your child will enjoy riding for hours without worries while being out with friends. In addition, this hoverboard comes with durable materials which certainly outperform those of any hoverboards in the present market. Apart from durability and battery life, non-slip pressure foot pads and wide foot panel offer your kid easy control and body balance. Look at the pros and cons to know about the product in brief.
Razor Hovertrax 2.0 Hoverboard
Cutting-edge EverBalance Technology has been used in this hoverboard. Its gyroscopic sensor provides an easier mount and smoother ride. This should be the smart choice for the kids aged eight years old and up. You don't have to worry that your kid would catch on fire or overheat because it has already passed various quality and safety checks set byUnderwriter's Laboratory (UL). Not to mention, Razor is the first US brand to receive the UL 2272 certificate. Like Powerboard, it has also anti-slip foot pads. Your worry will come to an end, you kid will not lose balance at all. It has a training mode as well. The mode can adapt to the current level of rider. So, novices should not worry any longer. Leave the liability on its training mode. It will prepare you and your kids for better rides. However, let's get back to the machine again. 350-wattdual motors ensure smooth rides. Bumpy roads are not an issue for Razor Hovertrax 2.0 Hoverboard. Your kid can ride at up to 8 miles per hour.
EPIKGO Self-Balancing Scooter Hover Board
If your kid is inclined to adventure, this board is ideal for him/ her. It features 8.5-inch bigger tires, wider platform, and more weight capacity. Overall, it is 30% bigger than the usual size of a hoverboard. No doubt, it will bring your child thrilling experiences. The robust aluminum alloy body frame has made the board more durable and long-lasting. Your kids can cruise up on rough and bumpy terrains without worries. The 400-watt dual motors can give you the best experience of acceleration, smooth rides. The powerful motors ensure crazy rides. Now, come to the point of safety. Just relax! This board has also passed all the safety and quality checks before being released. It has the UL 2272 certification.