Best Co Sleeper Reviews With A Complete Buying Guide
After your baby arrives, his/her safe sleeping arrangement becomes one of your biggest concerns. If you wish for a cozy, small and easy-to-use gear to put your baby into, few things can be more congenial than a well-equipped, comfortable co-sleeper. To have both your spouse and the baby safely positioned during sleep, a co-sleeper offers you a smart, timely and appropriate sleeping management.
A note on the myths surrounding the idea of co-sleeping
It is an overwhelming matter for manufacturers that many parents believe co-sleeping brings in some harsh outcomes which could possibly make this activity not a pursuable thing. Apparently, buying a co-sleeper for your baby may not be wise, as many parents along with some specialists would believe. So, you need to know the myths and truths about the activity before deciding whether or not you should buy a co-sleeper.
The myth that co-sleeping is not safe may seem true, but some maternity experts opine otherwise. Given that parents or caregivers become cautious enough to get their babies safe co-sleepers, the risk of Sudden Infant Death Syndrome (SIDS), the most shocking factor associated with co-sleeping, can be minimized.
The myth that co-sleeping babies barely learn how to become independent raises controversies among the researchers seeking the most practically viable answers. However, majority of experts believe that co-sleeping babies do not lose the way to become independent. Instead, they can settle more responsively when they sleep being close to their parents. Such vicinity becomes critical to their mental and psychological growth as they can respond to the different reactions, noises and motions made by their parents.
The above explanation should suffice for the fact that co-sleeping is beneficial in many ways, and parents have reasons to buy co-sleepers.
Now, why should you buy a co-sleeper for your baby?
Safety:
Parents might become indirectly responsible for their babies' suffocation by getting stuck or rolling between headboards. A good co-sleeper can reduce the risk of suffocation among co-sleeping babies requiring parents a little to adjust.
Assistance to breastfeeding:
Breastfeeding mothers find co-sleeper exclusively beneficial. Being facilitated by co-sleepers, they can become highly responsive to their babies' feeding routines and conveniently breastfeed their babies during night or early hours of the morning when lactation hormones reach the highest level.
Effortless responsibility:
Many co-sleepers these days come with vibration modes, music or white noise to provide additional comforts to the babies while saving parents' efforts to try to calm the babies.
Other conveniences:
With mothers' intuitiveness about co-sleeping with their little ones, fathers are to become rigidified for fear of rolling onto the babies. Co-sleepers save fathers from such anxiety.
If the baby sleeps well, the parents need not wake up much frequently, and this is how sound sleep of parents can be expected.
Co-sleepers can save your mattress which might become susceptible to leaks caused by your baby's pee and excrement.
Things that could discourage you to buy a co-sleeper
Well, these issues may sound like some disadvantages to let you not throw your bucks on the product. While these problems can be real, solutions are not unavailable.
"Co-sleepers are for short term uses only."
These products are not recommended for long-term uses. So, you can find the ones which are of great quality but available at affordable costs.
"Your baby may not like to be in a co-sleeper you have chosen."
Well, try to understand your little one's preferences. Because he/she is too little to deny the importance of a co-sleeper, you can always let him/her point at a preferred one.
"Co-sleepers may have lack of adjustment with your bed being an unsuitable choice for your baby."
You need to get a great co-sleeper, but you must not overlook the fact that it might not adjust well with your bed or sleeping arrangements. Try to find a co-sleeper that suits your bed well enough.
Who will find co-sleeper more useful than the others?
Mothers with C-Section wounds
It is important that your co-sleeper lets you keep your lower abdomen with less maneuvering required. With a C-Section wound, you can choose a good one with soft side for you while sharing bed with your baby.
Breastfeeding mothers:
Breastfeeding mothers would love to have an easy access to your baby which a co-sleeper is designed to offer.
Twins:
A spacious one can save you from the hassles of nurturing two babies in different spaces at a time. You can keep both of them in a large co-sleeper.
By now, have you been sure enough to buy a co-sleeper today? Well, you have a few more things to know.
Best Co-Sleepers to look for in 2022
The choices mentioned above are one of the most popular co-sleepers which include the most essential features and safety standards.
Arm's Reach Concepts Clear-Vue Co-Sleeper
This can be called a dual-purpose item if you want to use it that way. Available at a reasonable price, you can use it both as a bedside co-sleeper and a freestanding bassinet.
Standard Features:
Ages: Up to 5 months
360 View of baby
Basket included for extra storage
Mattress fitted sheet plate and strap included
Built-in Leg Extensions
Four castor wheels
Dimensions: 34 x 20 x 31 inches
Weight: 26.1 pounds
Pros:
Adjustable for varying bed heights
Great visibility through breathable mesh
Easy set up with nylon strap and plate
Super mobility
Innovative design
Cons:
Rolling of wheels requiring efforts from user's end
Thin mattress
SwaddleMe By Your Side Sleeper
Big in size yet easy in the bag, this co-sleeper is collapsible and can be used as a makeshift sleeper for uses anywhere anytime.
Standard Features:
Material: 100% Polyester
Mesh sides
Sturdy metal frame
Soft fabrics
Mattress pad along with fitted sheet included
Ages: Up to 3 months or the time by when the baby starts rolling over and pushing up
Weight: 1.6 Ounces
Dimensions: 14.5 x 32 x 11 inches
Gender: Unisex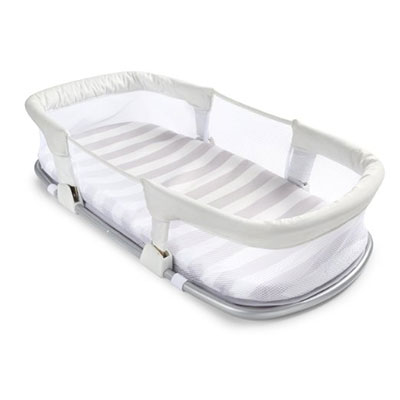 Pros:
A comfortable bed-sharing co-sleeper
A clear view of the baby
Air circulation arrangement for protection against overheating
Foldable to flat condition for travel
Easy to sanitize and maintain
Cons:
Fixed footrest
The mattress having chemical stinks requiring to be washed at least two times before first use
Click Here to Buy This Product
Boppy Newborn Lounger
Available at a little price, this cozy, comfortable co-sleeper can be your day-to-day companion, especially when you want to breastfeed or place your baby with warmth.
Standard Features:
Ideal for baby's awake time
Recessed interior cradles
Handle included for portability
Soft, firm sides
Wipeable fabric
Strap for looping pillow
Ages: Up to 4 months or 16 lbs in weight
Dimensions: 18 x 18 x 7 inches
Weight: 3 pounds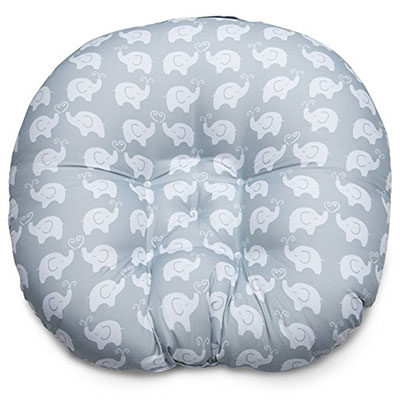 Pros:
Ultimate breastfeeding support
Versatile pillow for multi-tasking
Very affordable
Useable at any place
Offering mothers some hands-free moments
Cons:
Not suitable for sleeping babies
Not sturdy enough
Click Here to Buy This Product
The First Years Close And Secure Sleeper
Built with sturdy material and well-thought design, this co-sleeper removes your worries about pressing over or rolling down the baby while it is asleep.
Standard Features:
Ages: Up to 4 months
Style: Bed-sharing
Structured head rest
Protected sleep space
Mattress and cover
In-built handle
Waterproof base
Foot guard
Color: Cream
Pros:
Convenient sizing
Very affordable
Lightweight build
Great nightlight features for easy nurturing of babies at night
Easy to assemble and clean
Cons:
Non-expandable length making it impossible for using large babies
The foot rest being not adjustable
Click Here to Buy This Product
HALO Bassinest Swivel Sleeper Bassinet
Neither you nor your little baby would love to choose the same place for sleeping. With different locations or spots inside the house chosen for resting or sleeping, you can get one of these co-sleepers which will add value to your efforts for enjoyable baby care.
Standard Features:
Ages: Up to 5 months
Style: Side sleeper
Color: Damask or grey circles
Ideal for mothers with a C-Section wound
Spring-loaded side
Vibration, nightlight features and music included
Sturdy base
Wipeable waterproof mattress
Machine washable fitted sheet
Pros:
Requiring little space
Usable for both small and large bedrooms
Easily adjustable and suitable for mothers with restricted mobility
Easy access to the baby
Excellent features to make baby fall asleep quickly
Cons:
A little more expensive than you would expect
Not convenient when it comes to portability
Click Here to Buy This Product
So, you might become restless wondering how many sources you will still need to go through to find insights about similar co-sleepers. You do not have to, really. Here is a very effective buying guide to save you from the challenges of searching and finding the best match. After understanding the essence of this guide, you can find, on your own, the co-sleeper you really need.
Things to consider with caution
Types of co-sleepers:
Bed Sharing Co-sleeper:
The purpose behind making these products is to lend the babies some individual space while not allowing parents to worry about their rolling onto the babies while asleep.
These co-sleepers come in two forms, such as, framed and contoured.
With a framed support, framed sleepers require a lot of space and offer stability.
Much like a large pillow, contoured sleepers protect the baby with its raised edges. These ones are expensive yet ideal for breastfeeding mothers.
Side Sleeper:
These co-sleepers allow parents to share their beds with the baby allowing them to have their own area distinguished to the side.
There are two forms of side sleepers, such as flexible and three sided co-sleepers.
Much like a regular crib, three sided sleepers require you to attach the missing side to the mattress. Make sure mattresses are positioned with minimal gaps between them.
Flexible sleepers offer parents easy and safe access to the babies.
Age of the baby:
These products are often designed for babies who should use them for a few months only. So, you should avert high expenses on them. For toddlers, co-sleepers are also available in designs and shapes like the tummy time supports and playpens.
Expenses:
Co-sleepers come at different prices ranging from $30 to $500. If your chosen one costs you too much, you can look for an used co-sleeper which may save you some bucks, but you must check to see if any structural faults exist or the mattress is in good condition.
Safety Standard:
Make sure your co-sleeper conforms to ASTM International (Formerly American Society for Testing & Material) Safety Standards. Look at these points:
Choose one with a structured side and strong base.
To ensure that your baby sleeps comfortably with a neutral neck position, you should choose one with flat surface.
Choose a co-sleeper with stats or mesh sides so that airflow remains available to your baby.
Make sure the co-sleeper is movable or flexible enough with safety locks to prevent your baby from having accidents.
Portability and set-up
Since setting up a co-sleeper every night and getting the gear out of the bed will be your regular duties, you need to have the one that offers ease of use without having you sweating from excessive maneuvering every morning.
Folding co-sleepers are preferred by many parents due to their requiring little space for preservation. Also, you can buy a portable one if you wish to carry it on a vacation or visit.
Comfort:
Choose an item with firm mattress made of waterproof material.
Co-sleepers that offer slightly inclining positions may help reduce the discomfort of colic reflux, but you must keep an eye on the baby as it might slip down and under the blanket.
The one with snug spaces can help the baby feel like being in the mother's womb leaving him/her amid warmth and comfort.
Maintenance:
For easy cleaning, the mattress needs to be easy to wipe and air. Non-removable fabrics should also be like this. Also, the removable sheet should be machine washable.
Canopy:
In spite of being an additional thing, canopy can help your baby sleep quick enough to save you from his/her screams and harshness. To prevent lights to wake your baby up while asleep, a stiff canopy is a good choice. Be cautious while choosing fabric canopies or frilly curtains which might cause risk of strangulation for your baby.
Multimedia features:
Some co-sleepers include arrangements for nature sounds, soothing heartbeat and music with volume control options. Some also feature cool night-light that can help you take a sneak peek on your baby without causing any disturbance to him/her.
(Image: multimedia_features)
Additional Storage:
There are co-sleepers with storage baskets in the bottom. This extra storage offers help by allowing you to stash a change of diapers, wipes, clothes, booties, or toys. A short skirt is better than a flowing bed skirt for this purpose.
Cautions to follow with baby co-sleepers
It is recommended that you keep the temperature between 60.8-68⁰F while putting the baby into a co-sleeper.
Avoid smoking and some sort of medication like sprays or syrups in the room wherein the co-sleeper is located.
Do not allow pets near the sleeper.
While most co-sleepers offer protection, you should be ready to provide constant supervision so that SIDS or suffocation does not affect your beloved child.
Do not use excess bedding.
Try to keep in mind the emergency procedure associated with cardiac massage and artificial respiration known as CPR actions. This can prove to be hugely beneficial during any sign of suffocation noticed in your baby.
Final Words
The above discussion is absolutely oriented to help parents understand why and how they should use co-sleepers for their babies. You can consider co-sleepers other than the ones mentioned here if you have your very own preferences to meet. The buying guide covers almost everything there is to learn about co-sleepers. However, you may consult your acquainted pediatrician if you want to get deep insights about the merit of having co-sleepers for your baby.